Compare some of the best heat pump brands using our customer satisfaction ratings.
Brand
Overall
satisfaction*
Value for
money
Reliability
Ease of
use
Functionality
Quietness
* Overall satisfaction is an individual rating and not a combined total of all ratings. Brands with equal overall satisfaction ratings are listed in alphabetical order.
Toshiba
Daikin
Mitsubishi
Electric
Fujitsu
General
LG
Panasonic
Kiwis keeping warm on a budget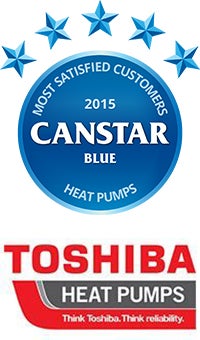 New Zealand can be cold – real cold, so household heating is an absolute necessity for most of us.
Unfortunately, electricity is not cheap and your winter energy bills may well blow your budget. Our research found that 42% of Kiwis feel significantly anxious or stressed when opening their power bill in winter, with 29% have had to cut their spending on other items so they can manage the power costs.
Heat pumps can provide an effective way to warm your home without breaking the bank. If you've been pulling on an extra jumper or wrapping yourself up in blankets to dodge the cold, you might want to consider investing in one. Or if you already have a heat pump, it might be time to replace it.
So, as winter draws to a close, we asked hundreds of Kiwis to rate the heat pump that got them through the colder months. The results for 2015 are in and we're pleased to report that Toshiba led the way in heat pump customer satisfaction, earning our Most Satisfied Customers Award – Heat Pumps.
How do heat pumps work?
Heats pumps do not create heat, but rather use airflow technology to move available heat from one place to another. An outdoor unit absorbs warmth from the surrounding air and transfers it into your home, using minimal electricity. But during the coldest months, your heat pump will need to work harder to transfer the same amount of heat into your home, so electricity usage will increase.
Some standard air conditioners can be problematic for asthmatics and allergy sufferers as some may blow dust particles around the room. This problem is less severe with heat pumps. Thanks to their advanced filtration systems, more than one in two Kiwis claim their health has improved since installing a heat pump.
Despite the name, some heat pumps have reverse-cycle functionality enabling them to cool your home, and 62% of adults also use this functionality to keep cool in the summer months.
How much can you save with a heat pump?
An earlier survey by Canstar Blue found the average expenditure on electricity to be $165 per month – which equates to $1,980 annually. A heat pump can be a great way to help you save on your heating, as they are widely considered to be the most energy-efficient heating solution and are endorsed by consumer groups and government agencies across the world, such as the Energy Efficiency and Conservation Authority (EECA). The US energy department claims that a standard air-source heat pump can reduce your heating expense by up to 50%, compared to electrical-based heating options.
Because heat pumps shift the exterior warm air inside your home, their energy usage can vary considerably across different climates. For example, to absorb warm air, a heat pump would require more electricity in chilly central Otago, than it would in the warmer Whangarei, so the potential savings could vary depending on where you live.
When purchasing a heat pump, be sure to consider the energy star rating for both its heating and cooling functions. The more stars it has, the more electrically efficient it is. You can use the Energywise running costs calculator to estimate the annual electricity expense of your heat pump.
The brands we rated
Toshiba
Toshiba offers a significant range of single-split system and multi-split system heat pumps for residential properties, with more than 30 locations to buy across New Zealand. Toshiba says it was the first company to incorporate inverter technology into air-conditioning systems in 1981 and has "maintained a technological advantage over its competitors" since. It hails the development of the new DC hybrid inverter system that has "reaffirmed this ability to innovate and maintain technological leadership in a fast-growing market".
Daikin
Daikin says its commitment to quality heat pumps can be seen in its investments in research and development. The company says its heat pumps offer superior quality, durability and energy-efficiency, so you can climate control your home or business more effectively over the long-term. No matter where you are in New Zealand, you'll find a specialist Daikin dealer near you.
Mitsubishi Electric
Mitsubishi Electric has achieved notable success in Canstar Blue's customer satisfaction ratings over the years, picking up our Most Satisfied Customers Award in 2013 and 2014, as well as an Innovation Excellence Award for its Wi-Fi Heat Pump Control Smartphone App. Mitsubishi Electric says it is committed to energy-efficiency and its heat pumps are engineered for superior heating.
Panasonic
Panasonic offers an extensive range of air-conditioning and heat pump products for the home, including for high walls, floor-mounted, under ceiling, ducted and cassette. Panasonic prides itself on innovative electronics technology and promises durability, comfort and quality from its products, which you'll be able to buy right across New Zealand.
Fujitsu General
Fujitsu General has specialised in designing and producing heat pumps for well over 40 years and offers a range of floor, wall and ceiling-mounted appliances. Fujitsu says its models are engineered for the home lifestyle, offering compact designs, healthy air and "whisper quiet", efficient operation. You'll hardly notice your new heat pump is there, it says. Fujitsu General has dozens of locations to buy across New Zealand.
LG
LG Air specialises in heating and cooling solutions for the home and prides itself on assisting customers with their requirements in full. As a "world leader in air conditioning technology", LG Air says its products are the ideal solution for home climate control. It promises energy-efficient, easy to use and reliable solutions, in whatever environment you need it.
How we rated heat pump brands
Canstar Blue commissions Colmar Brunton using the SSI panel to regularly survey 2,500 New Zealand consumers across a range of categories to measure and track customer satisfaction. The outcomes reported are the results from customers within the survey group who have purchased and used a domestic heat pump in the last two years – in this case, 567 survey respondents.
Brands must have received at least 30 responses to be included. Results are comparative and it should be noted that brands receiving three stars have still achieved a satisfaction measure of at least six out of 10. Not all brands available in the market were compared in this survey.
Source Links:http://www.canstarblue.co.nz/appliances/heat-pumps/